Thanksgiving Blessings from the Chair of the Board and Director of Education
Embracing Gratitude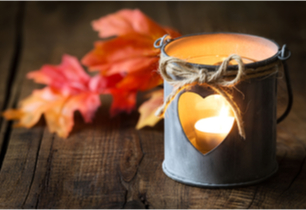 We here in the Durham Catholic District School Board respectfully acknowledge that we are on the traditional lands of the Mississaugas of Scugog Island. This is an acknowledgement that we make at the beginning of each school day and the start of all of our meetings of trustees and staff. It is a recognition that we have embraced, as we work toward full commitment of the Calls to Action of the Truth and Reconciliation Commission.
Over the past several years we have been on a journey, walking the path together with Indigenous community members toward increased understanding and improved practice. We have been grateful for the members of our Indigenous Education Advisory Circle and Indigenous student group who have partnered with us in our learning.
As we move toward the upcoming long weekend, which traditionally recognizes Thanksgiving, we are reflecting in a new way on the history behind this holiday. Read more.
Welcome to a Year of Love
And now these three remain: faith, hope and love. But the greatest of these is love.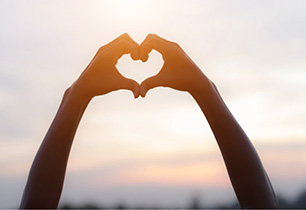 This new school year is beginning like no other in history. The excitement and joy of the first day of school is impacted by the many emotions that we are feeling as we return from a long absence and begin to learn a new way of being together in our school and parish communities so that we can keep each other safe. The changes we are making may feel strange and unfamiliar. We may encounter individuals whose beliefs about what we need to do differ from our own. In these uncertain times, it seems that there could be no more appropriate pastoral theme than the Year of Love. Read more.
Summer Blessings from the Chair of the Board and Director of Education

"The Heart of Christ is so great it wants to welcome us all into the revolution of tenderness." - Pope Francis
In this final instructional month of our Year of Hope, we reflect upon the triumphs and trials of what has unfolded to be an unprecedented time in the history of Catholic education in Ontario. While emergency closures have been in place across the province, we have missed gathering in our schools, churches, parks and other public facilities; yet we are amazed by the strength, compassion and resilience that we have witnessed among our Durham Catholic students, families, staff and community members. In the face of tremendous challenge, we are proud of the courage demonstrated and all the efforts made to maintain our commitment to Excellence, Equity and Engagement as a community that accompanies, builds relationships, encourages, instills hope and forms joyful disciples of Jesus.
2019-2020 Accountability Report

June 17, 2020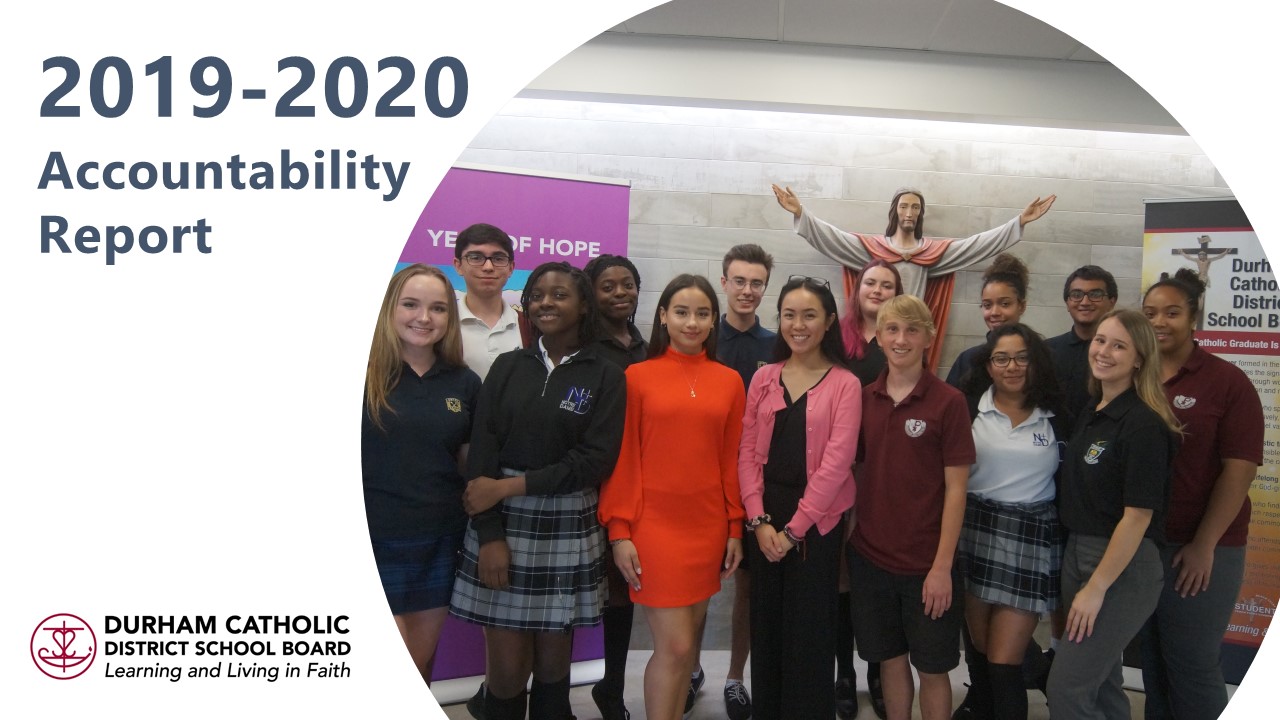 At the Regular Board Meeting of June 15, 2020, Director Barill presented the 2019-2020 Accountability Report, with outcomes and results that have emerged from the new Discovery 2023 Strategic Plan and Board Improvement Plan.
A Message to Staff for Catholic Education Week 2020: Igniting Hope
May 4, 2020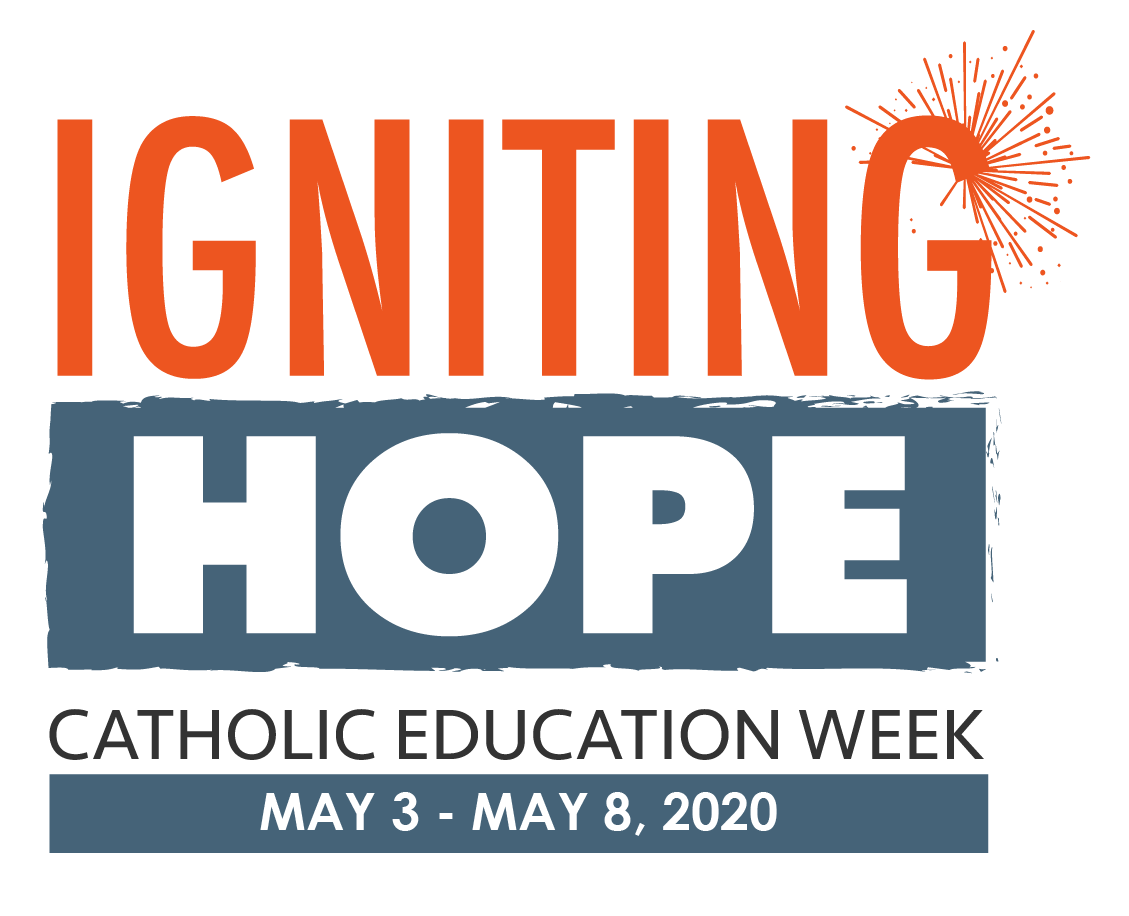 "May the God of Hope fill you with all joy and peace and believing, so that you may abound in hope by the power of the Holy Spirit." - St. Paul
Click here to watch a video message for DCDSB staff from Tracy Barill, Director of Education.
Easter Blessings from the Chair of the Board and Director of Education
"I am the resurrection and the life. He who believes in me will live, even though he dies; and whoever lives and believes in me will never die." (John 11:25-26)
April 9, 2020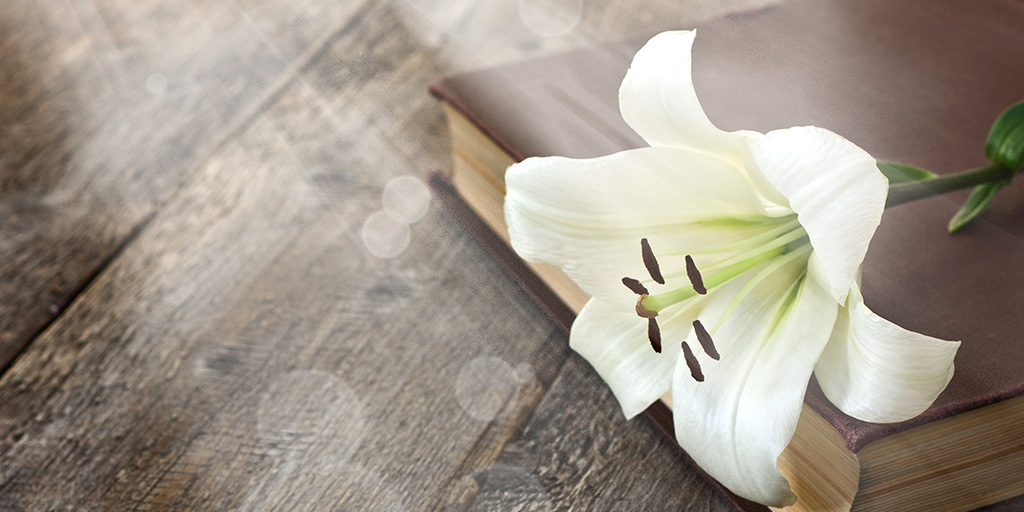 Thank you to our students, staff and families who joined us on Wednesday for the Stations of the Cross as we celebrated our Holy Week Community Prayer Service online. This beautiful service led by our school chaplains and faith formation coordinator can be viewed anytime.
After a week of adjusting to new distance learning tools, technology and routines, we now pause for the holiest days of our Liturgical calendar – the celebration of the Passion, Death and Resurrection of our Lord Jesus Christ. Read more.
Holy Week: April 5 to 11
"Do not abandon yourselves to despair. We are the Easter people and hallelujah is our song." – Pope John Paul II
April 3, 2020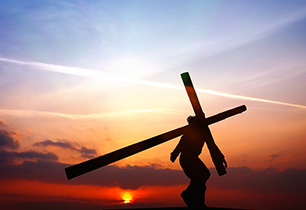 During these highly unprecedented times as our community and our world learn what it means to face a world-wide medical emergency, it is sometimes hard to keep track of the days and can be even more challenging to reflect on our sacred faith traditions. Isolated within our homes, we may struggle to feel authentic connection to each other and our faith community. Yet, our Lenten journey continues. In some ways, our current reality may provide us with time to reconnect to our spiritual life and focus on prayer. Read more.
A Lenten Message from the Chair of the Board and Director of Education
February 13, 2020
As a C
atholic school board, our faith is deeply rooted in our daily school routines, prayers, Masses and activities which are all connected to the Liturgical Calendar of the Catholic Church. On February 26, 2020 we will be entering the season of Lent. Lent is the period of 40 days of repentance and preparation leading up to the celebration of Easter – our most holy time of the year. During Lent, Catholics are called upon to pray, fast and give as we reflect on the ways in which we have strayed from God's plan for us and how we can return to joyfully living our lives as God intended. Read more.
A Message from Tracy Barill, Director of Education
January 6, 2020
Welcome to a new decade of Learning and Living in Faith. It is a true honour for me to enter this year as the Director of Education for the Durham Catholic District School Board. In September, the Board launched our strategic plan, Discovery 2023: Renewing the Vision, which outlines our future goals and affirms our commitment to Excellence, Equity and Engagement. Rooted in Faith and building upon our foundation of home, school and parish connections, we will continue to work together to support the faith formation, well-being and achievement of each student into 2020 and beyond.
While education has evolved over the years, our continued success as a system hinges upon the efforts of our dedicated staff, trustees, clergy, parents, volunteers and partners who each and every day answer the call to serve. As I embrace this new role, I would like to take this opportunity to share with you a little bit about my own learning journey through this short video: Called to Serve.
As a community, each person's story matters. I look forward to engaging with all members of this dynamic, faith-filled community and sharing stories about students, staff, trustees and members of our thriving system, to highlight how we are all living our mission, serving with excellence in the light of Christ.
Yours in faith,
Tracy Barill
Director of Education
Getting to Know Tracy Barill, Director of Education
January 6, 2020
On behalf of the DCDSB learning community, staff asked Tracy a few questions to get to know her as a system leader. Thank you Tracy for taking the time to chat with us as you begin your new role. Read more.
Director of Education
January 1, 2020
The Durham Catholic District School Board is pleased to welcome Tracy Barill to the role of Director of Education effective January 1, 2020.