Holy Week: April 5 to 11
"Do not abandon yourselves to despair. We are the Easter people and hallelujah is our song." – Pope John Paul II
April 3, 2020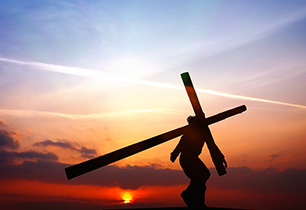 During these highly unprecedented times as our community and our world learn what it means to face a world-wide medical emergency, it is sometimes hard to keep track of the days and can be even more challenging to reflect on our sacred faith traditions. Isolated within our homes, we may struggle to feel authentic connection to each other and our faith community. Yet, our Lenten journey continues. In some ways, our current reality may provide us with time to reconnect to our spiritual life and focus on prayer. Read more.
A Lenten Message from the Chair of the Board and Director of Education
February 13, 2020
As a C
atholic school board, our faith is deeply rooted in our daily school routines, prayers, Masses and activities which are all connected to the Liturgical Calendar of the Catholic Church. On February 26, 2020 we will be entering the season of Lent. Lent is the period of 40 days of repentance and preparation leading up to the celebration of Easter – our most holy time of the year. During Lent, Catholics are called upon to pray, fast and give as we reflect on the ways in which we have strayed from God's plan for us and how we can return to joyfully living our lives as God intended. Read more.
A Message from Tracy Barill, Director of Education
January 6, 2020
Welcome to a new decade of Learning and Living in Faith. It is a true honour for me to enter this year as the Director of Education for the Durham Catholic District School Board. In September, the Board launched our strategic plan, Discovery 2023: Renewing the Vision, which outlines our future goals and affirms our commitment to Excellence, Equity and Engagement. Rooted in Faith and building upon our foundation of home, school and parish connections, we will continue to work together to support the faith formation, well-being and achievement of each student into 2020 and beyond.
While education has evolved over the years, our continued success as a system hinges upon the efforts of our dedicated staff, trustees, clergy, parents, volunteers and partners who each and every day answer the call to serve. As I embrace this new role, I would like to take this opportunity to share with you a little bit about my own learning journey through this short video: Called to Serve.
As a community, each person's story matters. I look forward to engaging with all members of this dynamic, faith-filled community and sharing stories about students, staff, trustees and members of our thriving system, to highlight how we are all living our mission, serving with excellence in the light of Christ.
Yours in faith,
Tracy Barill
Director of Education
Getting to Know Tracy Barill, Director of Education
January 6, 2020
On behalf of the DCDSB learning community, staff asked Tracy a few questions to get to know her as a system leader. Thank you Tracy for taking the time to chat with us as you begin your new role. Read more.
Director of Education
January 1, 2020
The Durham Catholic District School Board is pleased to welcome Tracy Barill to the role of Director of Education effective January 1, 2020.