Our Board's Numeracy goal is to improve student engagement and achievement by learning through the Mathematical Processes in the context of a Balanced Numeracy program. The Mathematical Processes (Problem Solving, Reasoning and Proving, Reflecting, Selecting Tools and Computational Strategies, Connecting, Representing, and Communicating) are the actions of doing mathematics. Through these actions, students will learn the concepts, facts and procedures necessary for them to do well in Math and to be effective problem solvers in the real world.
Balanced Numeracy
Mathematics instructional approaches have evolved through research to incorporate more than a single strategy. A good Math program offers a balance of the following:
Conceptual and procedural understanding;
Investigation, problems and practice;
Groupings (whole class, small groups or individual);
Instructional approaches;
Assessment strategies (observation, conversation, product);
Assessment purposes (for/as/of learning).
Most of all, we know that our students best learn Math by actually doing Math.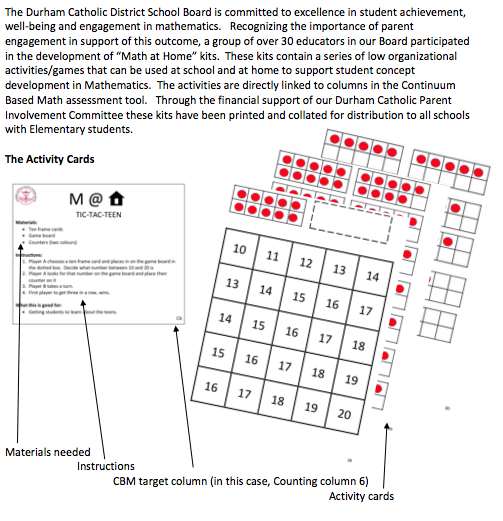 How Parents Can Help their Children?
One of the best ways parents and guardians can help their children do well in Math is to adopt a positive attitude towards the subject. Talk about how you use Math in your jobs, around the house, on road trips, buying groceries, paying taxes, budgeting, and doing home improvements. Play games and puzzles with your children such as Yahtzee, cribbage, Pentago, Kanoodle, Tantrix, Farkle, Blokus, Shut the Box, dominoes, chess, and any card game. Look for opportunities to get your children to measure things such as ingredients for baking, materials for building, their height and their weight. Further ideas can be found at the following:
Math@Home Kit
We have launched a Math @ Home kit that allows you to play games at home with your children. The games are fun and easy to play with items you have around your home and will help to develop and strengthen your child's Math skills.
Math games
Watch the videos to learn how to play the following Math games.
Unlucky 13
Two Pigs
Shut the box
Picking Percentages
Resources
Below are some links to help parents and students engage in Mathematics. Some of these are problem-based, others are practice-based: both types are important in developing students' mathematical prowess.