Our Catholic Schools
Our Catholic schools provide a faith based education rooted in the Gospel message of Jesus Christ. We challenge each student to meet Ontario's Catholic Graduate Expectations by promoting their spiritual development with an emphasis on social justice and Catholic Social Teachings. We believe that this formation will not only serve our students today, but also in the future as they contribute positively to our society in the service of others.
Each year we identify an essential element of new Evangelization, through a spiritual theme, to focus our faith formation initiatives. This year we will focus on the spiritual theme of love.


Welcome to the Year of Love (2020-2021)
The Year of Love design was created by Emma Fischer, a student from All Saints Catholic Secondary School. The image features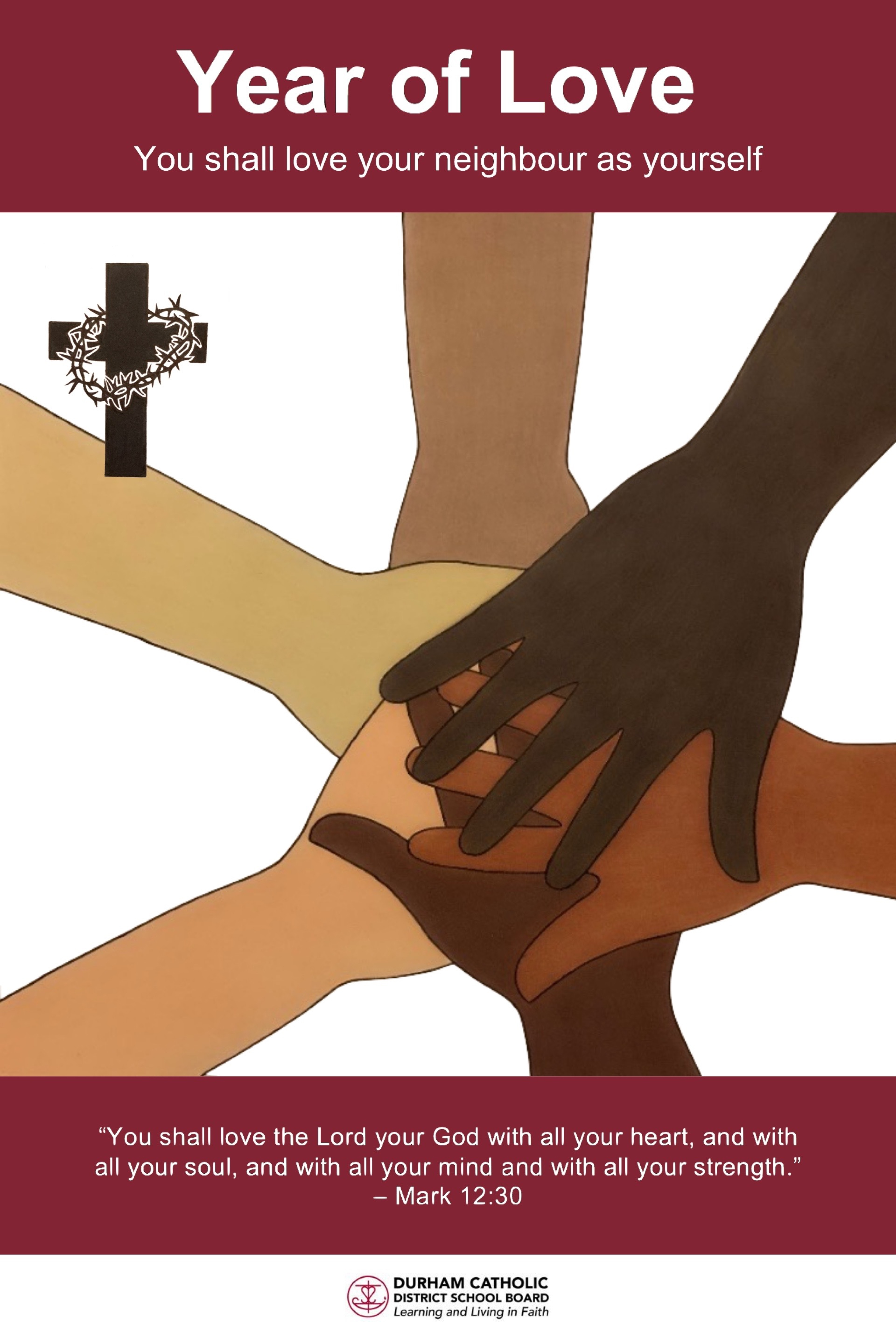 a group of six hands coming together in the centre and represents all the different backgrounds that students at the Durham Catholic District School Board come from. "I love how multicultural we all are and how we can all learn together at our schools," said Emma.
The hands together represent love and acceptance which Jesus modeled for us through his life and death. The cross with a heart of thorns illustrates Jesus' ultimate act of love for us – his death and resurrection on the cross so we can have eternal life.
The burgundy border at the top and bottom of the poster represents love, sacrifice and the blood of Christ.
Emma notes that the Biblical phrase "You shall love your neighbour as yourself" was placed at the top of the page to indicate how important it is to live by this mantra. In a world where there is so much hatred and disregard for people that are 'different', it is important that we can all learn from this. If we take the time to love and respect the people around us as much as we love ourselves, the world would be a better place.
The poster design ends with a larger part of the quote from Mark. "As Catholic students, we live in a very secular world where faith and religion are often not respected," added Emma. "Jesus is asking us to put God at the centre of our lives and to love him fully. If we are able to do this, I believe that we will find true happiness and love."
Our parishes
We partner with our local parishes to strengthen the relationship between school, home and church.
Renewing the Promise
"Our Catholic schools offer an extraordinary contribution to the social and environmental fabric of our society and world. In partnership with parents, who bear the primary responsibility for the education of their children, all those who work in Catholic education are called upon to reflect, in a faithful and discerning fashion, God's presence in this world."
(Source: Renewing the Promise a Pastoral Letter for Catholic Education, May 2018)
Find the Pastoral Letter for Catholic Education "Renewing the Promise" here.
Contact us
To learn more about New Evangelization, call us at 905-576-6150 ext. 22238.