Renewing the Promise
"Our Catholic schools offer an extraordinary contribution to the social and environmental fabric of our society and world. In partnership with parents, who bear the primary responsibility for the education of their children, all those who work in Catholic education are called upon to reflect, in a faithful and discerning fashion, God's presence in this world."
(Source: Renewing the Promise a Pastoral Letter for Catholic Education, May 2018)
Find the Pastoral Letter for Catholic Education "Renewing the Promise" here.
Our Catholic Schools
Our Catholic schools provide a faith based education rooted in the Gospel message of Jesus Christ. We challenge each student to meet Ontario's Catholic Graduate Expectations by promoting their spiritual development with an emphasis on social justice and Catholic Social Teachings. We believe that this formation will not only serve our students today, but also in the future as they contribute positively to our society in the service of others.
As a school district, we are guided by the principles of Excellence, Equity and New Evangelization. Each year we identify an essential element of New Evangelization, through a spiritual theme, to focus our faith formation initiatives. This year we will focus on the spiritual theme of hope.
Advent
Reflection for the fourth week of Advent
As we begin the season of Advent, we remember that Advent is a season of preparation. In Advent, we commit to preparing ourselves spiritually so that we might be ready to celebrate Christmas well. There are many ways to prepare for Christmas in this Advent season. But this season let us focus on the four "w"s of Advent preparation: wakeup, wait, worship, and work. This week, we reflect on waking up.
Mary responded,
"Oh, how my soul praises the Lord.
How my spirit rejoices in God my Savior!
For he took notice of his lowly servant girl, and
from now on all generations will call me blessed.
For the Mighty One is holy, and he has done great
things for me. He shows mercy from generation
to generation to all who fear him. His mighty arm
has done tremendous things!
He has scattered the proud and haughty ones.
He has brought down princes from their thrones
and exalted the humble. He has filled the hungry
with good things and sent the rich away with
empty hands. He has helped his servant Israel and
remembered to be merciful. For he made this
promise to our ancestors, to Abraham and his
children forever."
(Luke 1: 46-55)
Welcome to the Year of Hope (2019-2020)
Brother Mickey McGrath, OSFS, has created the following digital painting in honour of the Year of Hope.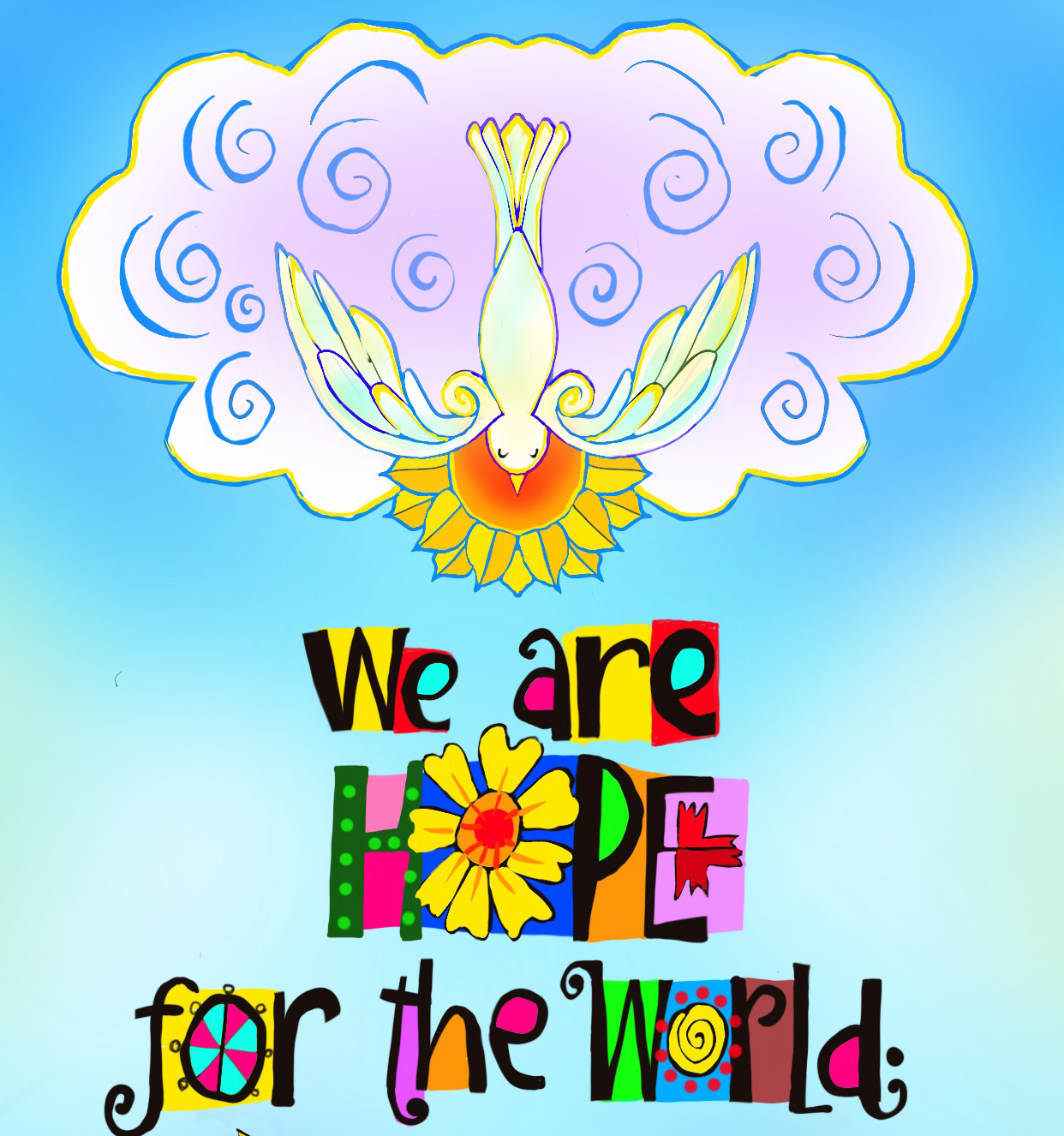 "When I read the tagline for the year, We are Hope for the World, I knew I had to go with it for the illustration. Here are some of the ideas which inspired the final drawing.
The Holy Spirit hovers above, her halo shining bright and resembling a Sunflower. The clouds behind the Spirit have the same spiral designs as the fleece on the sheep.
The other flowers are daisies, which resemble stars, are symbols of hope on earth. They also remind me personally of the Little Flower, so i like to sprinkle them around.
Our parishes
We partner with our local parishes to strengthen the relationship between school, home and church.
Contact us
To learn more about New Evangelization, call us at 905-576-6150 ext. 22238.