Throughout the month of October, we encourage students, families and staff to pray the rosary. We also invite students to submit original artwork that depicts the four different Rosary mysteries (joyful, sorrowful, light and glorious). See details below for more information.


Student Submissions needed - Mysteries of the Rosary Artwork

Who: The Rosary Apostolate, led by Sr. Marilina Cinelli, is made up of a large group of retired teachers from across the GTA, who responded to the request from teachers and principals to pray the Rosary with individual classrooms. At DCDSB, this takes place in hundreds of our classrooms at the elementary level and has become such an incredible and formative ministry at our board. COVID-19 has prevented the Rosary Apostolate volunteers from coming into our schools to pray the rosary with our elementary students. In hopes of continuing this ministry, the Rosary Apostolate needs our help bringing the Rosary virtually.


What: Sr. Marilina and the Rosary Apostolate volunteers will be making pre-recorded videos praying the rosary and posting them to YouTube each month. In order to make these videos, they need artwork for each of the 4 different Rosary mysteries (joyful, sorrowful, light/luminous, glorious) because they cannot use the images on the internet due to copyright issues. Calling all talented Durham Catholic students - we are looking to connect with any students who can create artwork for each of the mysteries.


Why: The artwork is needed so that the person/people who are watching the video and praying the rosary have an image to contemplate as they pray. After all, one of the beautiful gifts of praying the rosary is that we are entering into one part of Christ's journey for each decade. We are reflecting on what we can learn from the life, death and resurrection of Jesus while praying for a specific spiritual fruit/virtue and offering everything that is on our heart to our Lord with the help of our Blessed Mother Mary. These images will help us, as we pray, to grow in our relationship with God and ultimately our love for His son, Jesus!

How: There are no limitations to how the artwork is done or specification on size. It can be landscape or portrait – does not matter! All we need to be able to do at the end of the day is to take your artwork and make a clear electronic copy to be used in the YouTube videos. You have creative freedom as to how you want to do this, you can choose any art form. The style or genre of the art work can be anything, as long as it is your original work (no copying of other artists). Please keep in mind that these images will be used MOSTLY to pray the rosary with elementary aged students from Kindergarten to Grade 8.

When: Please submit photos of your artwork with your, name, grade, school and the mystery you have created artwork for to me, Katherine Mustachi, System Animator for Faith Formation at Katherine.Mustachi@dcdsb.ca by Monday, November 2, 2020.
Your will appear on the YouTube video each time your artwork is used. For each mystery of the rosary that you create artwork for, you will receive 3 community service hours. If you have any questions please do not hesitate to reach out to me! Please let me know if this is something you would like to do, and which mysteries you would like to create artwork for. Please complete and email the permission form with your submission.
Praying the Rosary
We encourage our Durham Catholic families, students and staff to pray the rosary during the month of October.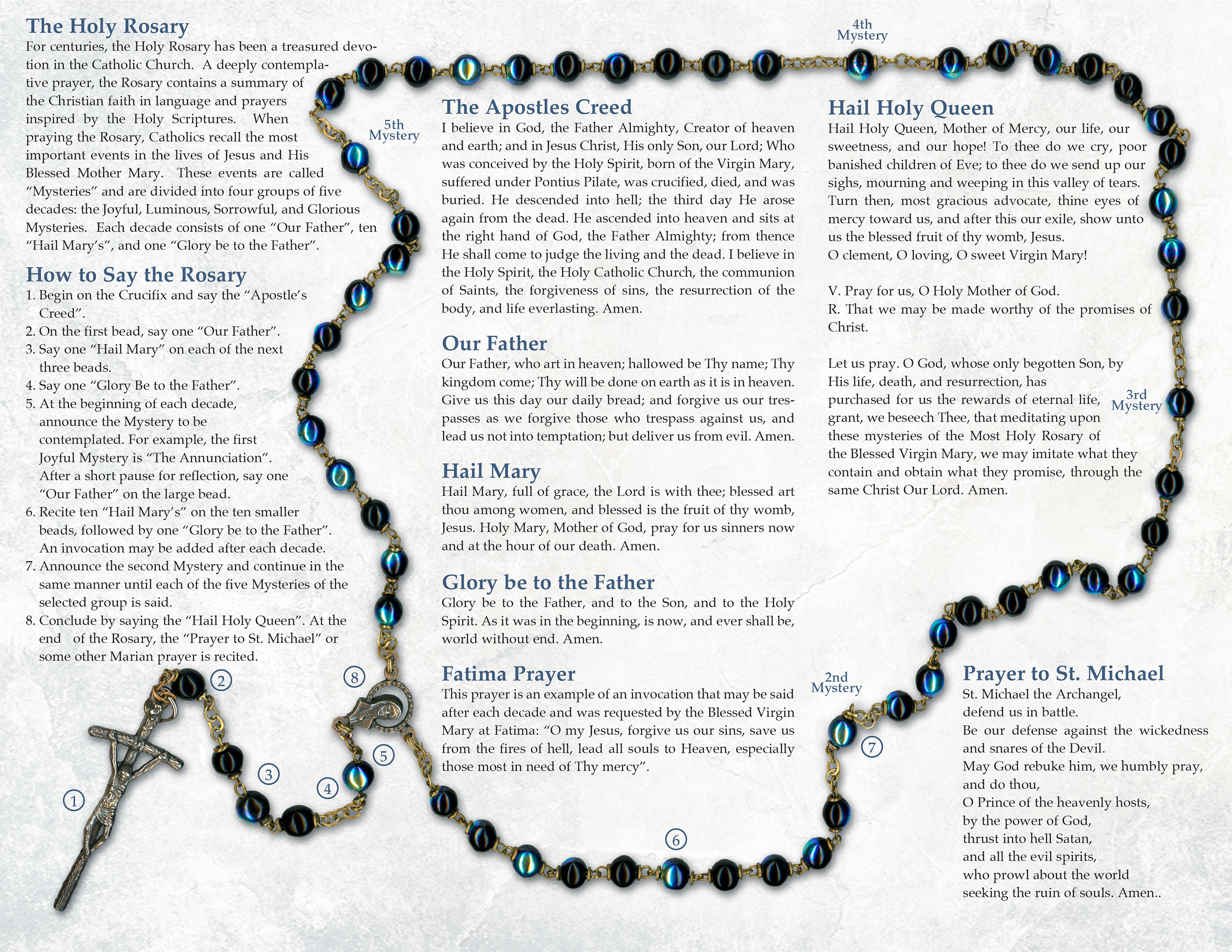 Prayers
The Sign of the Cross
In the name of the Father and of the Son and
of the Holy Spirit. Amen.
Apostles Creed
I believe in God, the Father Almighty, Creator
of Heaven and earth; and in Jesus Christ, His
only Son Our Lord, Who was conceived by
the Holy Spirit, born of the Virgin Mary, suffered
under Pontius Pilate, was crucified, died,
and was buried. He descended into Hell; the
third day He rose again from the dead; He
ascended into Heaven, and is seated at the
right hand of God, the Father almighty; from
there He shall come to judge the living and
the dead. I believe in the Holy Spirit, the holy
Catholic Church, the communion of saints,
the forgiveness of sins, the resurrection of the
body and life everlasting. Amen.
Our Father
Our Father Who art in heaven, hallowed be
Thy name, Thy kingdom come, Thy will be
done, on earth as it is in heaven. Give us this
day our daily bread and forgive us our trespasses
as we forgive those who trespass
against us and lead us not into temptation,
but deliver us from evil. Amen.
Hail Mary Prayer
Hail Mary, full of grace, the Lord is with thee,
blessed art thou among women and blessed
is the fruit of thy womb, Jesus.
Holy Mary, mother of God, pray for us sinners
now and at the hour of our death.
Amen.
Glory Be Prayer
Glory be to the Father and to the Son and to
the Holy Spirit. Amen.
Fatima Prayer
Oh my Jesus, forgive us our sins. Save us
from the fires of hell, lead all souls to heaven
especially those in most need of thy mercy.
Hail Holy Queen
Hail, Holy Queen, Mother of Mercy, our life ,
our sweetness and our hope, to thee do we
cry, poor banished children of Eve; to thee do
we send up our sighs, mourning and weeping
in this valley of tears; turn, them most gracious
Advocate, thine eyes of mercy towards
us, and after this exile, show unto us the
blessed fruit of thy womb Jesus. O clement,
O loving, O sweet Virgin Mary! Pray for us, O
holy Mother of God, that we may be made
worthy of the promises of Christ.
The Joyful Mysteries
The Joyful Mysteries

1. The Annunciation
Fruit: Humility
(Luke 1:28)

2. The Visitation of Mary
Fruit: Love of Neighbor
(Luke 1:41-42)

3. The Birth of Jesus
Fruit: Poverty
(Luke 2:7)

4. Presentation of Jesus in the Temple
Fruit: Obedience to the law of God
(Luke 2:22-23)

5. Finding Jesus in the Temple
Fruit: Joy in finding Jesus in your life
(Luke 2:46)
The Luminous Mysteries
The Luminous Mysteries

1. Baptism of Jesus
Fruit: Openness to the Holy Spirit
(Matthew 3:16-17)

2. Wedding at Cana
Fruit: To Jesus through Mary
(John 2:5-7)

3. Proclamation of the Kingdom
Fruit: Repentance and trust in God
(Matthew 10:7-8)

4. Transfiguration of Jesus
Fruit: Desire for Holiness
(Luke 9:29.35)

5. Institution of the Holy Eucharist
Fruit: Adoration
(Luke 22:19-20)
The Sorrowful Mysteries
1. Agony of Jesus in the Garden
Fruit: Sorrow for sins
(Luke 22:44-45)
2. Scourging of Jesus at the Pillar
Fruit: Purity
(John 19:1)
3. Crowing of Jesus with Thorns
Fruit: Moral Courage
(Matthew 27:27-31)
4. Jesus Carry His Cross
Fruit: Patience
(John 19:17)
5. Crucifixion of Jesus
Fruit: Perseverance
(Luke 23:46)
The Glorious Mysteries
1. Resurrection of Jesus
Fruit: Faith
(Mark 16:6)
2. Ascension of Jesus into Heaven
Fruit: Hope
(Mark 16:19)
3. Descent of the Holy Spirit
Fruit: Charity
(Acts 2:4)
4. Assumption of Mary into Heaven
Fruit: Grace of a happy death
(Judith 15:9-10)
5. Coronation of Mary
Fruit: Trust in Mary's intercession
(Revelation 12:1)